Bullies, Videogames and Overcoming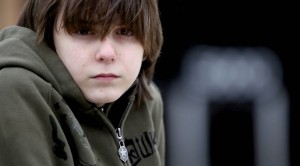 Let's start the day out on a good note, shall we?
Caine Smith, a Haltom City TX resident, is bullied. A lot. Instead of lashing out or giving in, he's raising awareness of his own plight and the plight of other students at his school. And according to Caine, a big part of what keeps him going everyday is, you guessed it, video games.
Watch the video and try not to smile as you remember playing games exactly the way Caine is playing them. Making silly noises, laughing, dreaming of being able to do the awesome things in them. Bonus points for playing Smash Brothers, by the way, Caine.
Gaming is sometimes a cruel, nasty place, but when kids like Caine are around it makes me feel better about the entire medium.
Check out the Bully Project, an anti-bullying movement, here.