A Day in the Life of King Dodongo
Alright, Dodongo. Today is the day. I just know it; I can feel it. Maybe there's something I missed in that corner. Surely nobody would take the time to carve this huge chamber out in a dungeon with only one tiny exit on the ceiling, right? Who the hell does that?
Fifteen years. Fuck me, I've been stuck in this hell hole for fifteen years. I can just imagine all those damn told-you-so's, don't go into the hole, Dodongo, we told you; we told you you wouldn't get back out Dodongo. Not that any of them ever gave a shit about me. I probably wouldn't have crawled into this hole in the first place if everyone wasn't such an asshole all the time. Just because I told them my dream was to grow up to be king. A dinosaur could be king, alright, what's so fucking hilarious about that? And Billy, calling me infernal and getting everyone else to pick it up. Infernal my ass. First thing I'm doing when I get out of here is kicking Billy's ass.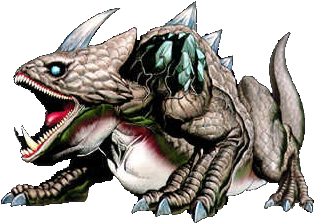 Maybe there's a crack in the wall somewhere? No, Dodongo, you idiot, you've searched the walls for cracks a million times. These things are solid rock. You've got to get your head clear, man. Maybe if it wasn't six thousand fucking degrees in here with this damn lava pit I could think straight.
Nobody cares when a dinosaur is bullied. I'm supposed to be big enough to take care of myself, right? Big, mean and scary? Well, I'm not. I eat plants half the time, for crying out loud. I pick the leafs off of bomb flowers. I only scream because I'm literally not physically capable of speaking quietly; I'm a goddamn dinosaur! If I could fight do you assholes think my primary defense would be curling up in a ball and trying to roll away? Fuck. Whatever, I'm sure they've missed me. They'll be so glad to see me again they'll be showering me with gifts. And I'll be the bigger dinosaur, show them some forgiveness. Except for Billy. Fuck Billy.
How did that hole in the ceiling fill back in with rock? Damndest thing I ever saw. That would be my luck, dropping into Hyrule's one damn cave with a damn resealing door. Maybe I could break it open if I could scale the wall? Ah, doesn't matter. There's no way I could fit through that thing any more. Funny how a diet consisting of nothing but rocks and bomb flower leafs can pack on the pound. Oh, man, I would cut off my hind legs for a tofu burger right now. And a fully loaded baked potato, with some iced tea. Oh, God, maybe just the iced tea even. It's so damn hot in here.
I'm stuck. That's all there is to it. I'm not getting out of here. I'm not… I'm spending the rest of my life in here. I'm going to die  in a lava filled pit, carefully walking around a tiny rock walkway. There is literally only one way in or out of this cave, and it's too small for me. Poor mom and dad. They must already think I'm dead.
I'm just so damn lonely. God, what I would give to just have one person in here with me. Just somebody to talk to now and then. Hell, even just seeing another living creature would be so great. Just…
What the hell was that? The hole just… is that a kid? Who the hell lets a kid go running around a dungeon? Well, I guess my parents' did. Poor guy, he's stuck in here too. I know just how he feels, that brief rush of adrenaline from the fall, a small flutter of excitement before suddenly being overwhelmed with dread that you're in a strangely symmetrical cave filled with lave with no way out. Maybe I could get him back to the hole… I'd just have to make sure I threw him right so he doesn't fall in the lava. God, can you imagine? Spending the rest of my life in here knowing I murdered a child. I'd just jump in the lava and end it all.
Is he… oh my God, he's picking the bomb flowers! He's going to blow his hands off! I've got to warn him! Hey! Hey, kid! Put that thing down! Those things explode, throw that…
WHAT THE FUCK, DID YOU JUST THROW THAT FUCKING BOMB IN MY GODDAMN MOUTH!?!?!? OH MY GOD, THE PAIN! FUCK ME, MY FUCKING BOWELS ARE EXPLODING!
Ohhhhhhhhhhhhh. Oh my God I have never hurt this much. I think my stomach is absolutely demolished. What the fuck is wrong with this kid? Who the hel…
… is that a sword? Does that kid have a sword? Kid, what are you doing with that thing? You're going to hurt yoursel…
FUCK ME, HE'S SLASHING MY GODDAMN FACE. OHHHHH, FUCK FUCK FUCKFUCKFUCK. OH MY GOD THAT HURTS. MY EYE! HE SLASHED MY EYE! WHAT THE HELL IS WRONG WITH YOU!
Ok, Dodongo, you've got to get the hell away from him. Fuck fuck fuck, what do I do? Just roll. Roll, get the hell away from him and then figure out what to do. Just get the out of here, go go go go gogogogo.
…
…
…
OK, I can't roll any more. It just hurts too much. I… guh… guh… oh, God, that's blood in my mouth. Oh my God, it's like a fountain, it's everywhere. I'm dying. This is it, there's no way I'm coming back from this.
Oh my God, here he comes. He's… he's getting another flower? Haven't  I been through enough? Just let me die in peace! You get the fuck away from me, you sick bastard! AAAHHHH!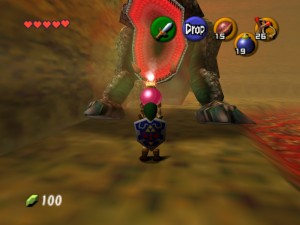 OHHHHHH. OH FUCK. OH FUCK HE THREW IT IN MY FUCKING MOUTH AGAIN. OHHHH, OHHHHHHH GOD THE PAIN. OH… MY…. GOD. WHY? WHY IS THIS HAPPENING? WHAT DID I DO TO DESERVE THIS LIFE?
He's got the sword out again? I can't take this. I just can't take this any more. Fifteen goddamn years in a fucking hole in the ground and this is how it ends. Fuck you too, life.
At least I can end things on my own terms. Some fucking psycho pyromaniac isn't taking Dodongo down. The lava. That's it, I'm going in. I'm just going to fucking end it all. Anything is better than the loneliness, than this pain. I'm dead anyway. Just straight in.
…
…
…
Oh fuck me this hurts, I didn't think it could get worse. But it'll be over soon. And now you're stuck in here alone, you asshole! Ha! At least I have that. Finally, something goes right; I get to know that the kid who killed me has to learn to live through the same lonely, meaningless existence that agonized me for over a decade. The crushing ennui; the overbearing stillness of this lava chamber that makes you feel like the air is just going to leave the room, just fucking disappear and suffocate you where you stand. You have to live with this, asshole. That is literally the one good thing that has ever happened to me, this little bit of knowledge right before I die.
Is… is that a teleportation beam? Is he… he did. He just teleported out of here.
Fuck me.